Is it possible to plan a stunning yet budget wedding in Liverpool?
The simple answer is yes! Liverpool is an incredible city full of character and unique and quirky wedding venues. With some outside-the-box thinking, planning a stunning, memorable and personal Wedding in Liverpool while on a budget is entirely possible. Below we will explain how we planned our fantasy budget wedding for under £5,000 and the ideas you can take away to plan your own incredible wedding, even if on a smaller budget.
The Average UK Wedding Budget For 2022
There is no way of escaping the fact that wedding celebrations are expensive. The latest Hitched National Wedding survey put the average spend for a UK wedding at £18,400, with 47% of the couples surveyed going over budget. £18,400 represented a £1,000 increase over 2021 and a massive leap from 2020. However, with the cost of living crisis dominating so much of the news in 2023, many couples are now looking at ways to save money on their wedding day.
Before we looked at how to reduce costs, we first wanted to examine where most couples were spending their budget.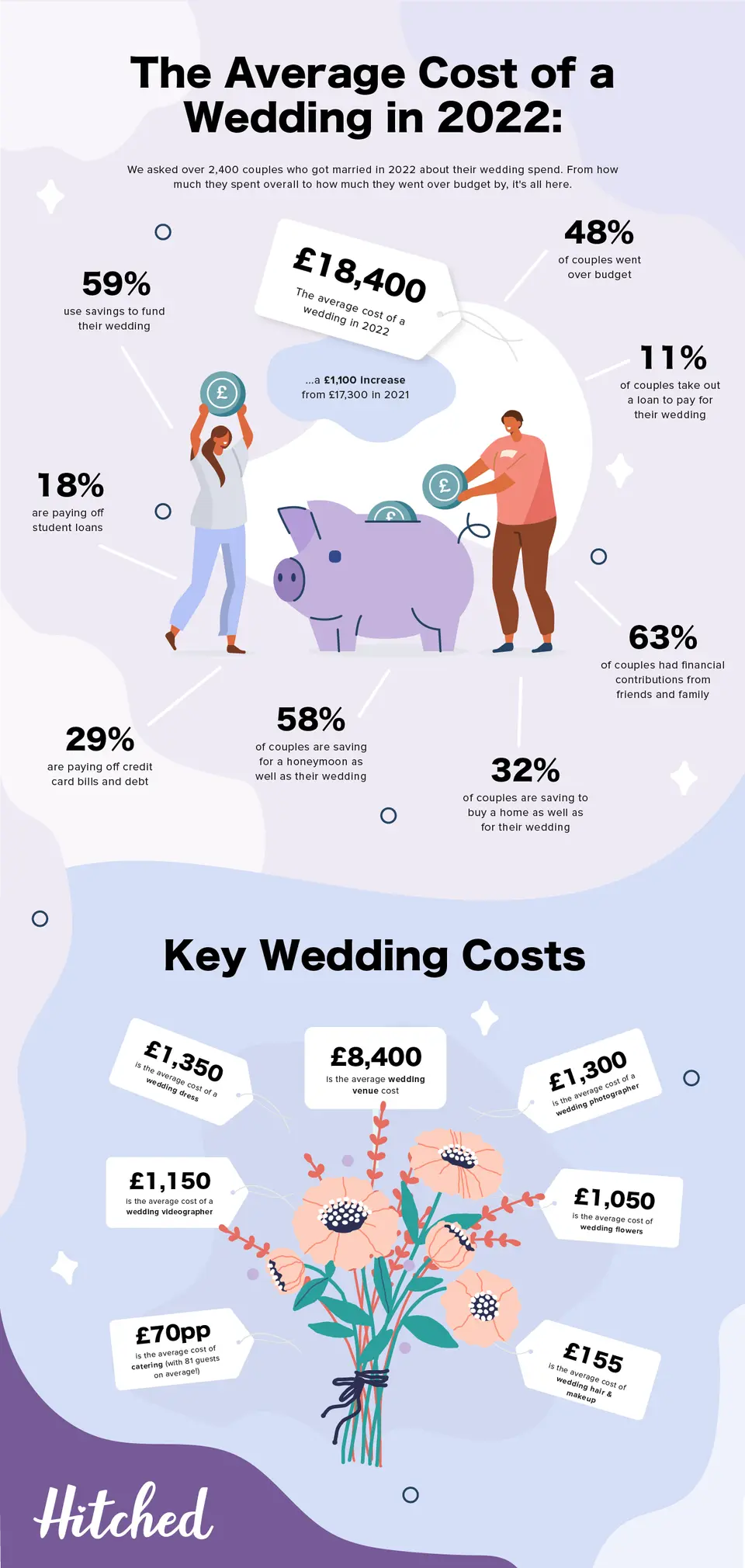 Major Wedding Costs
| | |
| --- | --- |
| Venue Hire | £8,400 |
| Wedding Dress | £1,350 |
| Photography | £1,300 |
| Videography | £1,150 |
| Catering per head | £70 |
| Wedding Hair & Makeup | £155 |
Liverpool Wedding Order Of The Day
So now we know the typical wedding cost, how can we reduce our spending?
There's no doubt you can plan the ultimate luxury wedding in Liverpool. However, with the cost of living crisis affecting so many, you may wonder if you can really plan a wedding on a budget in the city.
Liverpool is a city where Julia and I love to photograph. Therefore we wanted to see if planning a stunning yet budget wedding in Liverpool was really possible. One that was affordable yet offered the opportunity for stunning wedding photographs in Liverpool and a fantastic wedding experience. To do this, we looked at it as if we were planning our wedding again. Where we would choose to spend and save. While there are no right or wrong ways to plan a budget wedding, hopefully, our plans will help.
Several simple steps can go a considerable way toward reducing your costs;
Getting hitched later in the day so that you do not need to plan a sit-down meal
Getting married on weekdays is no longer considered unusual, and venues often charge less than Fridays or Saturdays.
Peak wedding season in the UK typically runs from May to October, with dates outside this being cheaper.
If you're willing to shop around, plenty of venues offer special packages for weekday or winter weddings that can help the budget.
Our Budget Wedding Plans
Getting married doesn't need to be expensive; you can actually get married for as little as £57 in Liverpool. But to do this, you neet to opt for a midweek statutory ceremony before 11 am. Most of us, however, want to celebrate the day with our friends and loved ones. So before planning our fantasy budget wedding, we decided to set some critical criteria.
WHAT season for our fantasy budget liverpool wedding
the budget for our fantasy liverpool wedding
Although we were planning a budget fantasy wedding in Liverpool, we wanted the best chance to enjoy the city. We, therefore, decided to opt for a summer wedding, even though we knew this would challenge the budget and picked that date of Saturday, July 8th 2023.
For our fantasy wedding, we had set ourselves a budget of £5,000. This figure was based on the approximate amount given by the financial site NimbleFins as typical for a budget wedding.
Planning a weekend wedding during the peak summer season would seriously challenge the budget.
WHAT WAS GOING TO BE THE STYLE OF OUR FANTASY BUDGET WEDDING
WHAT TYPE OF VENUE did we want for our budget liverpool wedding
Our budget would only stretch a little for florals or room decoration, but we didn't want it to feel like a budget wedding. As the wedding would be in the city, we simply decided to lean into the idea of city chic.
Despite the small budget, we wanted the day to feel unique and extraordinary. Therefore we ruled out many of the fantastic venues across Liverpool offering some great wedding packages and instead decided to think outside the box.
Planning Your Guest List For A Budget Wedding
The most significant impact on your budget is your guest list. A wedding with 250 guests will obviously be much more expensive than 25, so if you are working to a budget, think small. Work through our guide to planning your guest list, and limit your numbers to those who really mean the most to you as a couple.
When Julia and I married in 2016, we did so at a small hotel in the Lake District. Despite being limited to 40 daytime guests, the wedding never felt small, nor did it feel like we had been made to compromise. So while your numbers will vary from ours depending on your family etc., we used 40-day and around 100-evening guests when planning our fantasy budget wedding in Liverpool.
Civil Wedding Ceremonies In Liverpool City
Liverpool has nearly 50 licensed wedding venues across the city, from the unique Alma De Cuba with its eclectic mix of Cuban, Hispanic, and Latin American influences to the Luxury victorian elegance of Sefton Palm House. Liverpool truly is a city with something for everyone!
However, our venue of choice was St Georges Hall to keep costs down. The Grand Jury and Sefton Rooms can both be booked via Liverpool Register Office, meaning there is no additional fee for the registrar to conduct your ceremony at an approved venue.
Having photographed many weddings at St Georges Hall, we know it is a stunning backdrop for wedding photos and one of the nicest looking register offices in the UK.
Ceremony costs vary, but having already decided that we wanted a Saturday wedding, the cost would be £290. We would also have to pay approximately £35 each to give our notices.
If either of you has been married previously, you will need to pay £50 to have the paperwork checked by the register. We would also recommend paying a small fee to allow your wedding car access to St George's Plateau.  This can be arranged by contacting St Georges Hall directly stgeorgeshall@liverpool.gov.uk
Ideas for your Liverpool Budget Wedding Venue
Couples consistently list venue hire as the single most significant expense of their wedding day. For most weddings, the cost of hiring a venue, including food and drink, will average around £8,400. So here, thinking outside the box can really pay!

The city of Liverpool combines history, culture, and creativity, making it an exciting place to plan your wedding. But with a guest list of just 40, we had a lot of flexibility in choosing where to go in Liverpool.

After some careful thought, we decided to choose a mid-afternoon for our fantasy wedding. This timing would allow people to have something to eat earlier in the day and us to plan something more informal later in the afternoon at the venue.
The Search
We used the website venue scanner to search out the perfect space and, in the end, picked Ma Boyle's, Rum and Rumour Kabaret Bar for our Fantasy wedding reception. We were spoilt for choice, but Ma Boyles had the perfect vibe. It was easy to get to from St Georges Hall and was ideally located for capturing stunning wedding photos close to the Liverpool waterfront and with easy access to the church garden of Our Lady and St.Nicholas.
We budgeted around £350 for several plates of finger food / canapés when the guests arrived at the venue and £700 for later in the evening when we would have more guests.
We have found at most weddings, the guest will head straight to the bar for their drink of choice, so we decided against welcome drinks. If anything remined in the budget, we might change this later or put some cash behind the bar.

Like a lot of venues, space at Ma Boyles is free to hire as long as you meet the minimum spend (£250 for the Rumour Kabaret Bar), so there was no hire cost.
We also have also create a list of 21 Amazingly Unique & Quirky Wedding Venues In Liverpool to provide further inspiration in planning your wedding no matter your budget.
Wedding Dress
While I wasn't involved in choosing Julias' original wedding dress for our fantasy budget wedding in Liverpool, she did share her choice. As we were planning a city centre wedding, which would likely involve some walking, she knew she wanted something simple yet elegant. Julia ended up choosing a cream / Ivory sleeveless wedding dress from Oxfam for £400. The dress was listed as new without tags and had an RRP of £2077.

We weren't concerned about matching styles with the chic city style, so we would ask Julias' maid of honour and my best man to choose something they liked and would wear again. Then, if the budget allowed, we would add this to our shopping list. If not, we would ask them to buy it.
Stillwhite is the largest online global marketplace for preowned, used and second hand wedding dresses. With over 77,373 gowns for sale, you can find your dream wedding dress at a fraction of the cost.
Oxfam has eight shops with bridal departments. These are stocked with good quality fashionable bridal wear and accessories, new and pre-loved.
Partnering with brides and brands to curate a unique collection of new designer and donated wedding gowns, they donate 1/3 of their profits to chosen charity projects working to end child marriage.
if you would like to learn more about donating your wedding dress check out our blog post on wedding dress donation and 10 great charitable organisations
Entertainment Ideas For Your Liverpool Budget Wedding
Hiring a band or DJ can be quite expensive and a well-considered Spotify playlist can be perfect. For our fantasy wedding though we decided that we wanted a live act at the venue to be playing as our guest arrived.

We could have chosen from any of the acts we have photographed over the last couple of years, but in the end decided this probably wasn't realistic for anyone else planning their day. Therefore we turned to Google and found Becky & Josh online for our fantasy Liverpool wedding, which came to £600. We loved the laid-back acoustic sound of this duo and through it would be for a summer afternoon in Liverpool.
Another great place to find musicians is to ask friends and family if they know anyone. Alternatively, if your local pub has live music, ask them for the details of any acts you have enjoyed.
If you hire a live act, make the most of their time and stick to their existing playlist, as you may have to pay extra for them to learn a song that isn't in their repertoire.
Flower Ideas For Your Liverpool Budget Wedding
Wedding flowers can be expensive, especially if you have a large wedding party all with their own flowers. So we decided that only Julia would have a bouquet to keep the cost of our fantasy budget wedding to a minimum. After looking online, we found a stunning dried flower arrangement for £90 at Selfridges. Selfridges are obviously not a "budget" option, but Julia fell in love with the pop of colour in this bridesmaid bouquet, and that was the end of that discussion!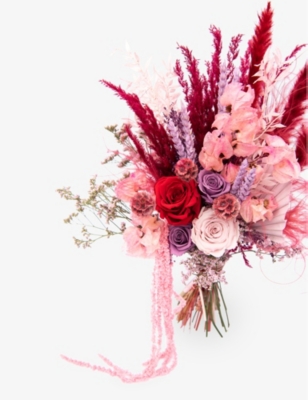 Although artificial flowers have improved massively over the years, real flowers always smell better! Shop around for your flowers, always speak to your local florist, and don't be afraid to explain you are on a budget. Try to choose flowers that are in season at the time of your wedding, as these typically cost less.
Rings For Your Liverpool Wedding
When it comes to choosing where to buy your wedding rings in Liverpool, there is one company known by almost everyone. Wongs Jewellers has been a part of Liverpool's history and wedding culture since 1979, growing from a small workshop on the 3rd floor of the office block at 26th North John Street to the flagship store today on Stanley Street. The building was once home to Hessey's, the famous guitar store where The Beatles, Sir Paul McCartney, bought his first guitar!
As we said at the start of the article, we wanted our fantasy Liverpool wedding to feel spectacular despite the tight budget, so a sneak peek at Wongs would always happen! Surely, however, we couldn't have a sold gold and beautifully hand-finished ring on our budget?
We could! Wedding bands started at just £140 and a little more than this when we chose the correct sizing.
Personally, we chose to blow the budget a little here as a wedding ring is something you keep with you as a constant reminder of the wedding. Your wedding rings, however, don't need to be expensive, with titanium being a popular budget option.
Wedding Suit Your Liverpool Budget Wedding
I have always been a fan of a nice suit, and I probably have one or two already to choose from. If, however, I needed to pick up a new one, I have always found Marks & Spencers to be good value for money and very well fitting. Again not the cheapest option, but it would be something I could wear again and would look good in our wedding photographs.
With it being a summer wedding and less formal than a larger wedding, I opted for a linen-rich light blue two piece suit, which came in at £199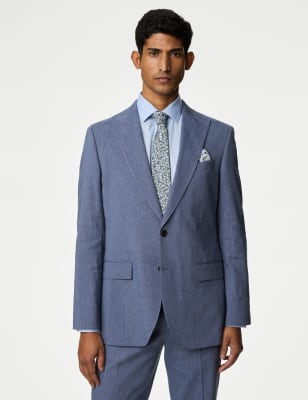 Wedding Photography For Your Liverpool Budget Wedding
As Liverpool wedding photographers, we obviously value photography, and it was an area neither of us was willing to compromise. However, from what we had planned so far, we knew it would be a day full of photography-related challenges.
Choosing Our Wedding Photographer
Our time at St. Georges Hall was going to be limited. By choosing the registry office on Saturday in Summer, we would likely have less than 30 minutes for any group or couples portraits on the steps. So our photographer would need to be organised. We had fallen in love with the atmosphere at Ma Boyles, but this meant indoors would be dark while outside would be flooded with the summer sun. So whoever we chose would need to be experienced in working with both simultaneously. Furthermore, they would have to know how to light indoors without losing the atmosphere in Ma Boyles as the evening cooled and more people moved inside.
Ultimately, we added one of our favourite photographers to photograph our own wedding. But then this is a fantasy wedding, so we could do what we wanted. As we tried to stay within the budget, we chose to go with a Full Day Digital package.
If you want to read more about our approach to weddings and our pricing, check out our detailed guide to your wedding photography investment with Fitzpatrick Photography.
While cutting back on your photography budget can be tempting, especially if you are planning a budget wedding, be careful! While some great low-cost photographers are available, you typically get what you pay for. While an up-and-coming or student photographer may seem the ideal way to save money, you only get one shot to capture your wedding memories!
If you do choose to save here, research and spend a lot of time making sure the person you choose is right for you.
Transport Ideas For Your Budget Liverpool Wedding
We had a long hard think about wedding day transport for our Fantasy Liverpool Wedding. In the end, we decided it was an expense that we could minimise with some careful planning.
It would only take 15 minutes to walk from St Georges hall to Ma Boyles, and it would be all downhill. For most of our 40-day time guests, this wouldn't cause any issues and allow Julia and me to take in some of our favourite spots for photos.
Queen Avenue
Probably Liverpools Best Kept Secret
For the few friends and family who would find the walk challenging, we would book two taxis to take them straight to the venue (£20).
Julia would stay overnight with friends, and they would drive her to the venue, and I would do the same with my best man. Assuming we would be parking the two cars overnight close to St Georges hall the cost for this would be £34.
Wedding Stationary For Your Budget Wedding
Wedding stationery is one of those things that looks easy until you try it! Then, unfortunately, it can quickly eat away at your budget with all the little bits and pieces you need.
If you are on a budget, consider going paperless and having a wedding website rather than the more traditional save-the-date and RSVP cards.
In our blog, you can read more about planning with social media and using the wedding website to create paperless invites.
We decided to use the FREE Hitched Wedding Website for our fantasy wedding in Liverpool. It is a site packed full of over 80 templates to choose from, along with plenty of features and benefits.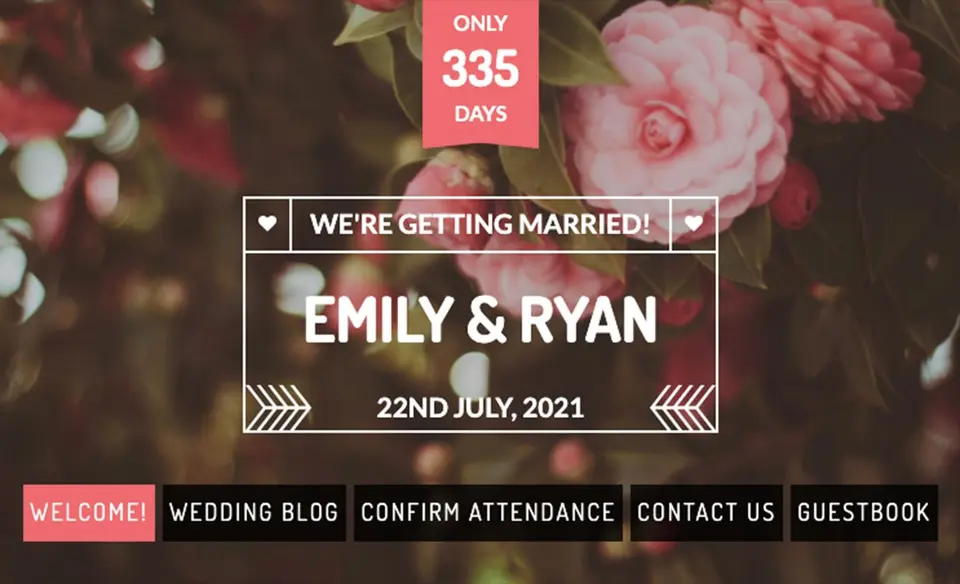 As we weren't having a sit-down meal, we didn't need to display menus or orders of the day. If your day is more formal, however, creating your own pieces can help save you money.
Hair & Makeup For Your Budget Wedding
If you have planned your wedding for a little later in the day, then there is no reason not to consider you and your bridesmaids doing each other's hair/make-up. Someone is usually a genius with the hair tongs and blush brush. Make sure you practice first to make sure you're happy with the results.
For our fantasy wedding, though and with a little bit left in the budget, Julia decided to splash out by getting both her and her maid of Honours hair done at her favourite hairdresser's. Rather than a complete style, however, she decided on a curly blow and pinned that she could finish herself at £30 each.
For make-up and nails, she again went with suppliers she has used before nights out and which would have been £60 each.
Wedding Cake For Your Budget Liverpool Wedding
There are plenty of options for your wedding cake, from specialist bakeries to off-the-shelf versions, even Giant Colin the Caterpillar Cake, which will bring a smile to any wedding!
For our fantasy wedding, we decided to go with another option. Patisserie Valerie has been crafting handmade cakes and patisseries for nearly 100 years. The first store opened in London in 1926, and by 2003 had stores in Marylebone, Kensington Belgravia and Chelsea. Patisserie Valerie stores have since spread across the UK, and you can now order online!
We chose a Naked Blossom Cake complete with Swiss meringue buttercream, finished with wired sugar flowers including cherry blossom, white clematis & pink spring flowers, all for just £89 delivered!
Budget Wedding Favours
The pros and cons of wedding favours have long been debated! But do you need them?
Wedding favours have come a long way since the jaw-breaking sugared almond. Today, however, it's not uncommon for couples to remove them entirely from their list of things to consider. While other couples still like the idea of providing their guest with a token of gratitude. There are no right or wrong answers, so whichever one of the above describes you, go with it.
If you want to give your guests a small gift, why not make something instead of buying? If you can bake, homemade cakes and biscuits will always do well! Of course, if you are no Delia in the kitchen, you might wish to choose something inexpensive but memorable… kinder egg, anyone?
As we had already avoided a sit-down meal with our fantasy budget wedding, we decided no one would notice the missing favours, so we crossed them off our list.
Overnight Accomodation For Your Liverpool Wedding Night
We decided to splash out on overnight accommodation in the city for our fantasy budget wedding in Liverpool. While our remaining budget wouldn't quite stretch to the Presidential Suite of 30 James Street (£330 per night), we could stretch to a Superior Double at £155 per night.
The superior doubles at 30 James Street offer magnificent views of Liverpool, including the Strand and Three Graces.
The perfect ending to our spectacular fantasy budget wedding In Liverpool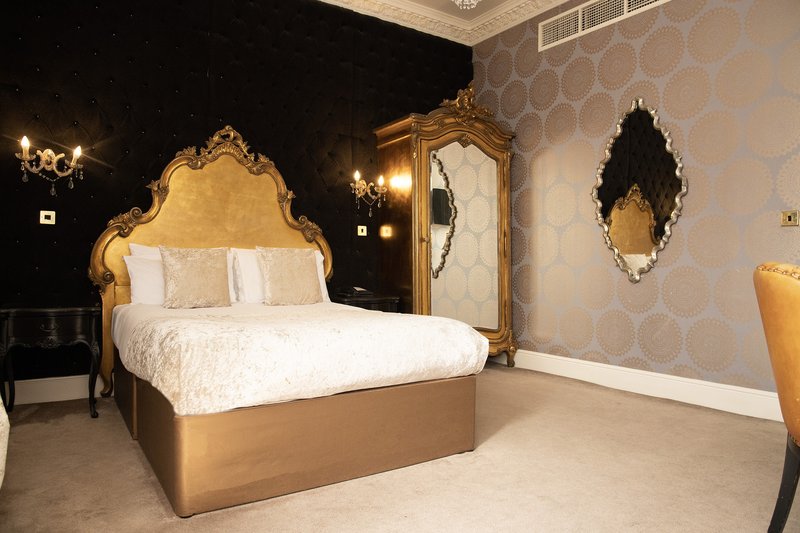 Conclusion
Is it possible to plan and book a spectacular budget wedding In Liverpool? Yes! Despite choosing to blow the budget in several areas important to us, we were able to plan our fantasy wedding for £4,982.
It would be a day unique to us and one that took in all the best Liverpool has to offer, including the waterfront, live music and fabulous food. Ultimately, a few minor details would likely take us over the £5K, but only slightly.
When planning your own budget wedding in Liverpool, remember to focus on the areas that matter to you, and don't be afraid to think outside the box. Few of today's wedding traditions are over 100 years old, so feel free to create your own!
To help with your wedding planning we have put together a comprehensive 32 step guide taking you every step of the way
YOUR ULTIMATE WEDDING PLANNING GUIDE
To help with your wedding planning we have put together a comprehensive 32 step guide taking you every step of the way