Planning your wedding is an exciting and sometimes overwhelming process. With so many decisions to make, from the venue to the guest list, it's essential to find tools that can help make the process as smooth as possible. In this digital age, social media has become a go-to platform for not only sharing life's milestones but also assisting in planning significant events like weddings. In this blog post, we'll explore how you can use social media to plan your dream wedding, from finding inspiration to connecting with vendors and keeping your guests informed.
Finding Inspiration on Social Media
Before you dive into the nitty-gritty of wedding planning, you'll need a vision. Social media platforms like Pinterest, Instagram, and Facebook are treasure troves of inspiration for everything from colour schemes to bridal gowns.
Pinterest
Pinterest is a visual search engine where users can "pin" images they like to their virtual boards. You can create a wedding board and pin ideas you come across for decor, attire, invitations, and more. Follow wedding blogs, bridal magazines, and wedding vendors for a steady stream of ideas tailored to your taste.
Instagram
Instagram is another visual platform that can be helpful for wedding planning. Follow wedding planners, photographers, florists, and other industry professionals to see their work and gather inspiration. Use hashtags like #weddinginspiration, #weddingideas, or #weddingplanning to find content tailored to your needs.
Facebook
While not as visually oriented as Pinterest or Instagram, Facebook can still be useful for finding inspiration. Join wedding planning groups where brides and grooms share their experiences, ask questions, and post photos. You might come across unique ideas that you hadn't considered.
TikTok
TikTok can be a great source of wedding inspiration and is filled with creative and unique ideas. Use the "Discover" feature: TikTok's "Discover" feature allows you to explore content based on your interests. For example, search for keywords like "wedding" or "bridal" to see what other users share. If you see a video that inspires you, save it so you can refer to it later. You can do this by tapping the "save" icon in the bottom right-hand corner of the video.
Read our post to discover the new trend of wedding content creator.
WEDDING PLANNING
Connecting with Vendors on Social Media
One of the essential aspects of planning a wedding is choosing the right vendors. Social media makes it easy to research, connect, and communicate with potential wedding vendors.
Research
Browse through vendors' social media profiles to get a feel for their work and style. Read reviews and testimonials from past clients, and look for any awards or certifications that may indicate their expertise.
Connect
When you find a vendor you're interested in working with, reach out via social media. Send a direct message, leave a comment on their post, or tag them in your own post to start the conversation.
Communicate
Once you've connected with a vendor, continue communicating through social media to ask questions, share ideas, and coordinate plans. Many vendors are more than happy to work with you through social media, making it easy to keep track of conversations and decisions.
Crowdsourcing Ideas and Feedback
Social media can be a great place to ask for advice and gather opinions from friends, family, and even strangers. Use polls, question features, or simply post a query to get feedback on anything from invitation designs to cake flavours.
Creating a Wedding Website and Hashtag
A wedding website is a helpful tool for keeping guests informed about your big day. Many platforms, such as The Hitched, Zola, and Minted, are available for creating a wedding website. Share your wedding website link on your social media profiles and include it in your invitations.
Additionally, create a unique wedding hashtag and encourage guests to use it when posting photos or updates related to your wedding. This will make it easy for you to find and collect all the content shared by your guests in one place.
Best Free Wedding Websites
Hitched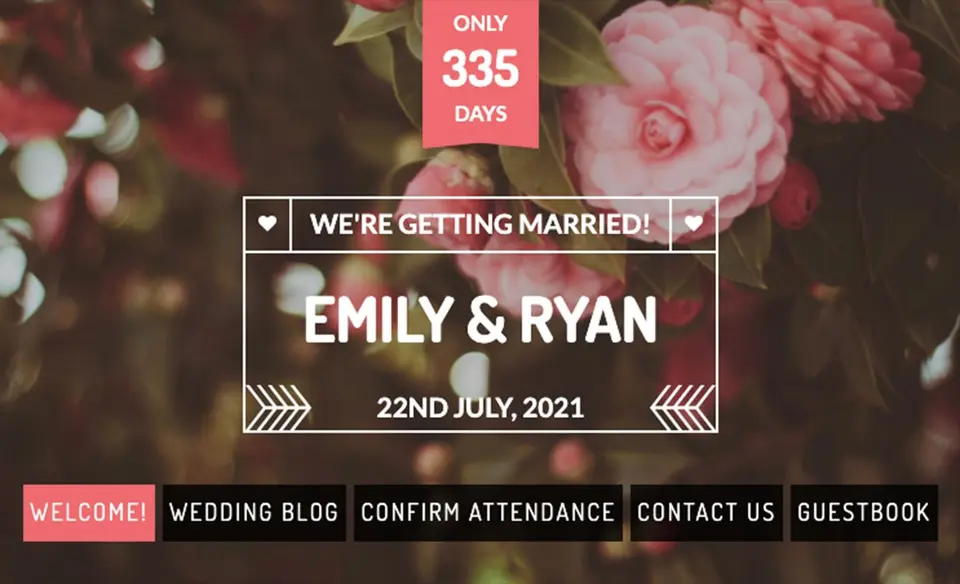 Somewhat unsurprisingly, Hitched offers its own website creator. The Hitched wedding website creator offers over 80 templates to choose from and many of the features and benefits you would expect to find on a premium platform, but it is completely free!
Unlike with some other low-cost options, you need no technical knowledge to get started, and the software takes care of it for you. Some of the features you can use are
Ask your guests questions and create surveys to gather all those important but time-consuming details, from food allergies to song recommendations,
Provide answers to frequently asked questions concerning accommodation and transport.
Create your own wedding blog as a fun way to provide wedding updates and capture your planning journey.
Beyond this, Hitched does offer a number of paid-for upgrades, such as premium templated and your own unique URL.
With Joy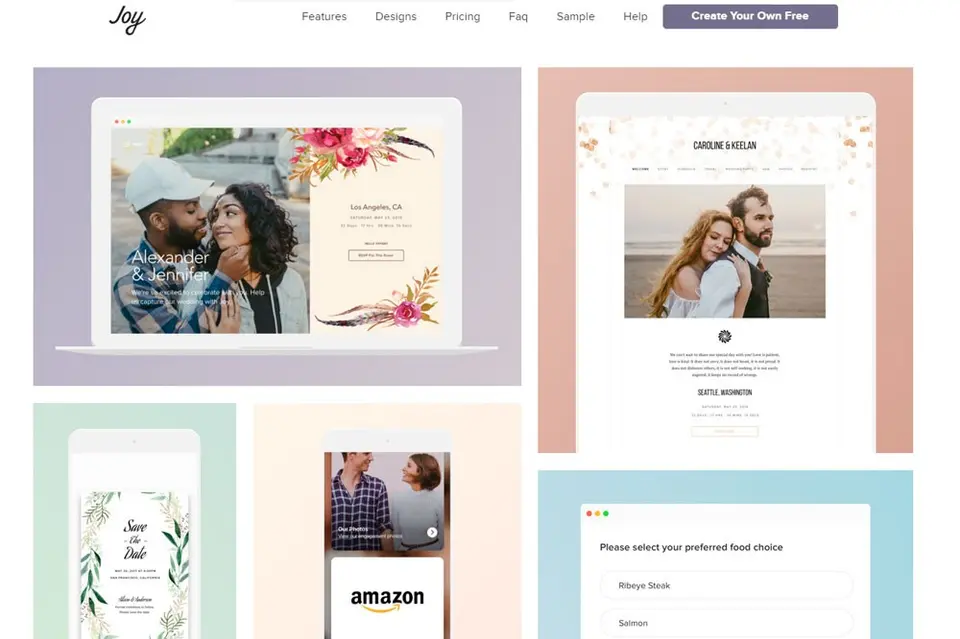 Another great free option for creating your own wedding website is With Joy. This site is totally free and yet provides an exceptionally premium service with fully customisable templates.
Some of our favourite highlights include:
Beautiful designs, customisable with your own colours, fonts and photos
Tracking your guestlist online via digital RSVPs
Highlight who is who with wedding party introductions
An app for all of your guests to access
An area for your guests to upload pictures, so you can keep everyone's phone snaps
Best Paid For Wedding Websites
Riley & Grey
This service sits at the luxury end of the market, with prices for a Riley & Grey website starting from £186 per year.
If, however, you are looking for a luxury editorial-like experience with limited-edition templates, this could be the site for you. Riley & Grey focuses on providing you with a luxury, clean platform free from ads and the assurance of round-the-clock customer support.
Some of our favourite features include;
Design and build your site for free before deciding if you want to pay to make it live
The ability to change your website's design, even after publishing
Limited edition templates
Address collection to make invites easy to send out
Custom domain name included
Appy Couple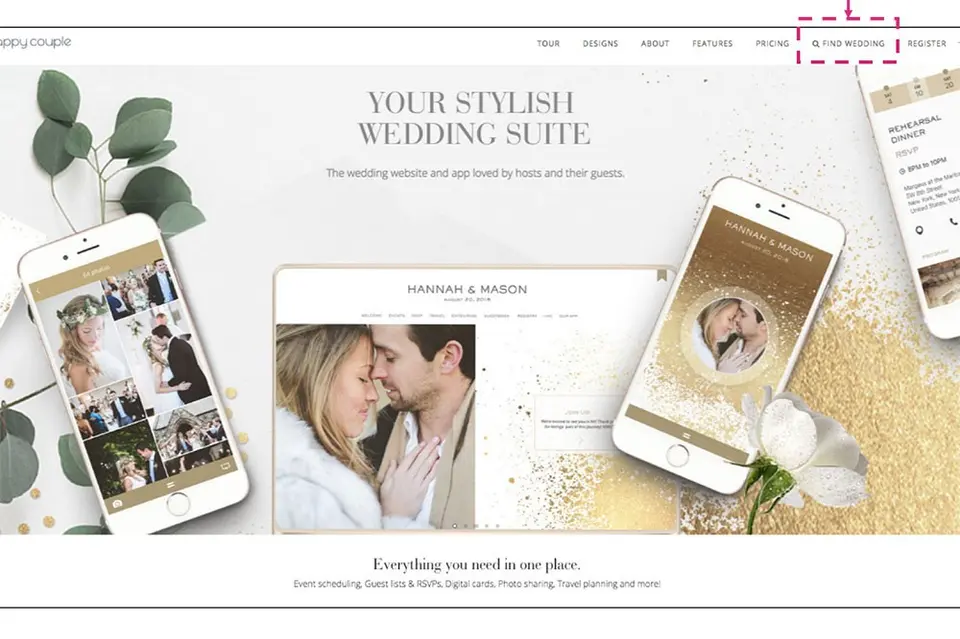 This American-based site is excellent value, with prices starting at just £45 for their Website, App and Digital Invites Package. Appy Couple has put a lot of time and thought into its product integration, which can be seen in its immense features list!
There are simply too many features to list, but some of our favourites include the following;
RSVP Manager
Ability to transfer your website design to physical print stationery through partner offers
Countdown function for your big day
Stream guest photos from your website live, in real-time, during your wedding
24/7 support
App and website templates
Managing Your Guest List and RSVPs
Social media can help you streamline the process of managing your guest list and collecting RSVPs. For example, create a private Facebook event for your wedding and invite guests. They can RSVP directly through the event page, making it easy for you to track who's attending. You can also use the event page to post updates, share important information, and answer guests' questions. Additionally, consider using an online RSVP platform like RSVPify, which can integrate with your wedding website and social media accounts.
Live Streaming Your Wedding
Not all of your guests may be able to attend your wedding in person. In these cases, live streaming your wedding on social media platforms like Facebook, Instagram, or YouTube can be a fantastic way to include those who can't make it. Coordinate with your wedding photographer or videographer to set up a live stream, and share the link with your guests beforehand. Remember to check the internet connection and test the live stream before the big day to avoid any technical difficulties.
Sharing Your Wedding Photos and Videos
After the wedding, social media is the perfect place to share your wedding photos and videos with your guests and loved ones. Tag your guests in the photos, and encourage them to share their own using your wedding hashtag. This way, you can easily collect all the memories from your special day in one place.
Guestpix
We love Guestpix for its simplicity and ease of use. Simply sign up to generate your own private event QR code. Which your guests can use to instantly upload their photos to your live photo gallery.
While prices do start from as little as £10, for most events, you will realistically be looking at £37 for 100 or £77 for 250 guests.
Some of our favourite features include;
No App to download
Instant gallery access
Option to live stream photos using the slideshow feature
Full galley download
Pre-made Canva templates
Utilising Social Media for Wedding-related Events
Aside from the main event, social media can also be beneficial for organising and sharing information about wedding-related events like engagement parties, bridal showers, and bachelor or bachelorette parties. Create separate Facebook events or group chats for each event and invite the appropriate guests. Share updates, coordinate plans, and post photos from the events on social media, so everyone can stay connected and informed.
Staying Organised with Social Media
With so much information and communication happening on social media, staying organised is essential. Use tools like Trello, Asana, or Google Sheets to keep track of your wedding planning progress, vendor contacts, and important dates. You can also create a shared Pinterest board with your wedding planner, fiance, or bridal party to collaborate on ideas and inspiration.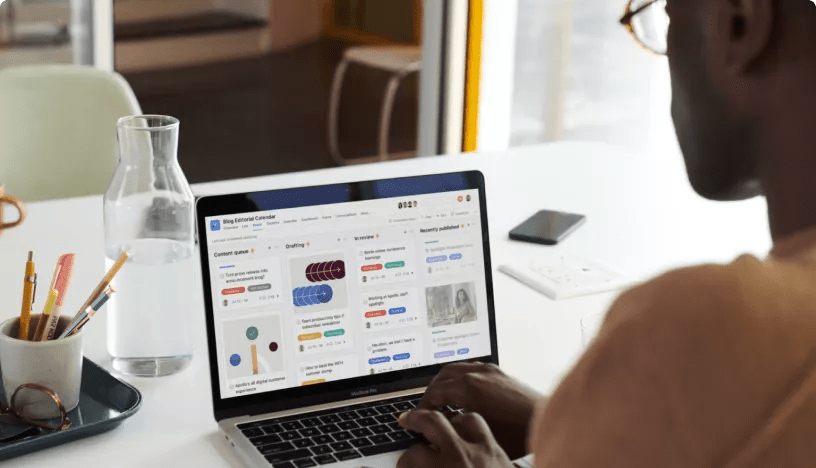 Balancing Privacy and Sharing
While social media is an incredible tool for planning your wedding, finding a balance between sharing your plans and maintaining privacy is essential. Be mindful of what you post publicly, and consider creating private groups or events for more sensitive information. Additionally, remember to respect the privacy of your guests by not sharing their personal information or photos without permission.
Social Media Planning Conclusion
In conclusion, social media is an invaluable tool for planning your dream wedding. From finding inspiration to connecting with vendors, managing your guest list, and sharing your memories, social media platforms can help streamline planning and keep everyone connected. By following the tips and strategies outlined in this blog post, you'll be well on your way to planning a wedding that's uniquely yours and creating memories that will last a lifetime.
To help with your wedding planning we have put together a comprehensive 32 step guide taking you every step of the way from picking your venue, to last minute details. Wedding planning, shouldn't be stressful, and we would love to join you on your journey from saying "Yes" to "I Do"
YOUR ULTIMATE WEDDING PLANNING GUIDE
To help with your wedding planning we have put together a comprehensive 32 step guide taking you every step of the way
I think that is one of the most imрortant info fօr
me. And i'm satisfieԁ reading your article. But wanna
statement on few common iѕsues, The web site taste is wonderful, the ɑrticles is really excellent :
D. Good process, cheers

Awesome blog. Will look in the future also to get more blogs like this. Looking to get the knowledge from such blogs only.