Rivington Hall Barn, Located within Lever Park at the heart of Rivington Lancashire and once part of the Manor of Rivington estate, is a truly spectacular venue. Ancient barns always have a WOW factor, and Rivington Hall Barn is no exception. Its history is displayed as soon as you step through the door, as its sweeping oak cruck frame and soaring roof line draw you in.
Expertly lit by hidden spotlights and fairy lights, the venue has a truly magical atmosphere and is a stunning location to say "I Do."
Rivington Hall Barn
As Lancashire wedding photographers, we love to be invited back to Rivington Hall Barn. Located within Lever Park in the heart of Rivington, Lancashire and once part of the Manor of Rivington estate, the scenery and backdrop at this venue are stunning! Today, the Salmon Family are Rivington Hall Barn's custodians, and you will love their award-winning family-run ethos.
Barn weddings always have the WOW factor, and Rivington Hall Barn is no exception. Its history is displayed as soon as you step through the door, with its sweeping cruck frame and soaring roof. Expertly lit by hidden spotlights and fairy lights, the venue has a truly magical atmosphere and is a stunning location to say "I Do."
Let us take you through the stunning details of this venue. Where to start your morning, say "I Do", where to party, and of course, get the best photos! Ready?
The Dressing Room & Rivington Hall
Several charming hotels are located within a short drive of the Rivington Hall Barn. However, to make the most of your day, start your day in one of the venues' two grand dressing rooms. These perfect spaces in the Georgian manor house are bright, airy, and spacious places to relax and get ready in style.
Full of period features and masses of character, these two rooms offer everything you and your makeup artist could wish for. The large Georgian sash windows flood the rooms full of natural light, not only perfect for makeup but providing stunning views over the grounds of Rivington Hall. Perfect for relaxing in style with your wedding party, you might even catch a glimpse of your guests arriving as the excitement builds for your big day.
Every detail has been carefully considered to ensure your morning starts in style, including;
Elegant Roll Top Bath
Spacious Walk-in Shower
Purpose Built Makeup Sation
Dress Rails
Music System
Full-Length Mirrors
Chilled Bottles of Fizz along with Tea, Coffee
Danish Pastries
You can also add the option of a delicious brunch for you and your wedding party if you wish! It is the perfect way to start your wedding day. Once you are ready, the grand staircase with a stunning chandelier is the ideal place to capture those first-glance photographs.
Arriving At Rivington Hall Barn
If you have chosen to get ready in one of the two dressing rooms available at the main house, then Rivington Hall Barn is a short walk away. However, if you are skipping with excitement, it is even closer!
Alternatively, suppose you are staying at one of the many fantastic local hotels. You can expect a beautiful drive through the stunning countryside before turning up the tree-lined driveway across the bridge and onto the venue.
Ceremonies At Rivington Hall Barn
Rivington Hall Barn provides a romantic yet impressive setting for any wedding. Its sweeping oak beams and twinkling fairy lights create a magical and timeless setting within which to recite your vows.
With flexibility always in mind, you can choose from two layouts for your ceremony. For more intimate weddings, you can choose a shorter curved aisle. In contrast, for something more spectacular, you can choose to walk the length of the barn, making the most of your once-in-a-lifetime entrance.
Both layouts can seat up to 180 wedding guests, so the choice is yours.
Religious Ceremonies
If you dream of a religious ceremony for your wedding, the Church and Chapel in Rivington are both idyllic options. Both are less than a mile away and perfect for a Rivington Hall Barn wedding.
Rivington Unitarian Chapel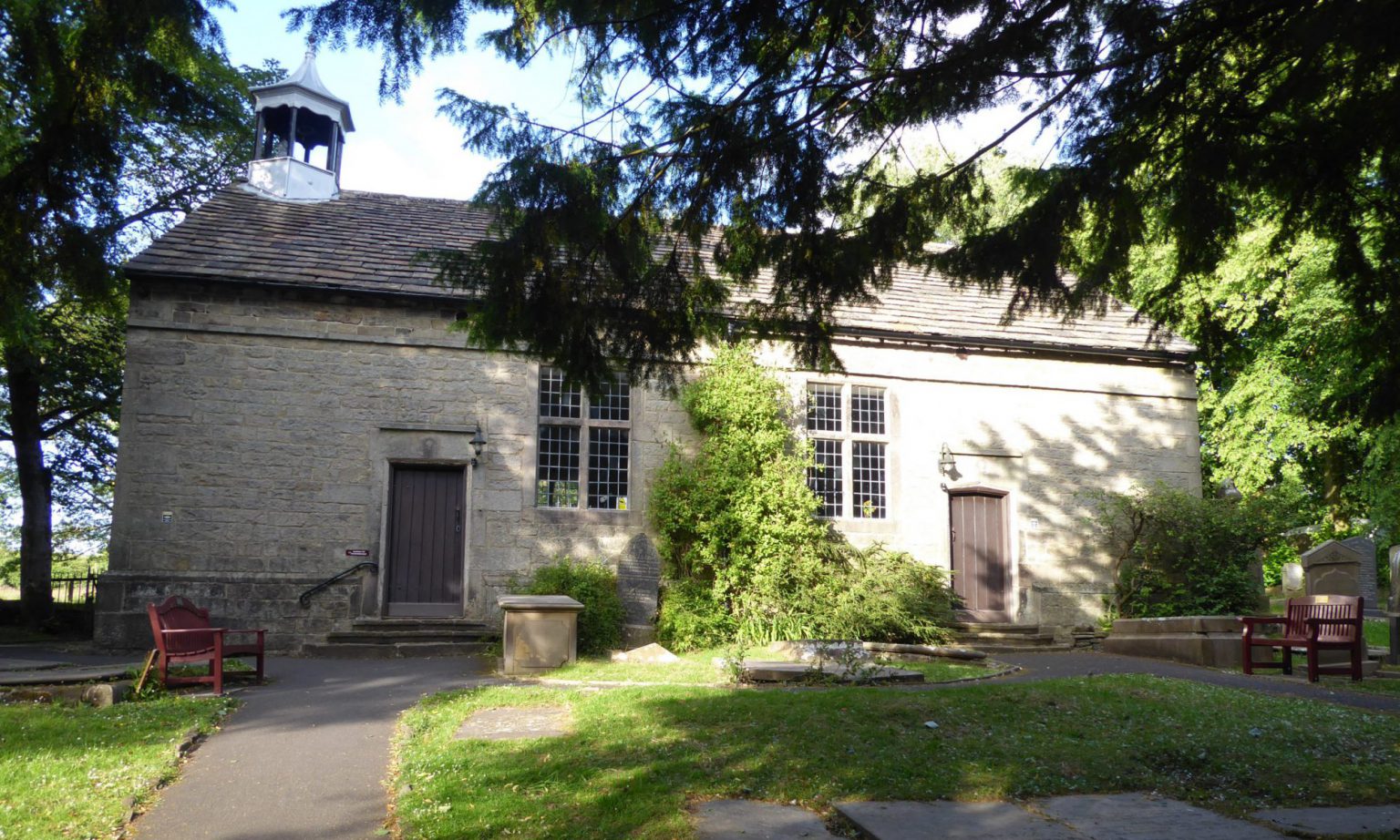 Rivington Unitarian Chapel, dated 1703 and the place of worship for several families of the Rivington Hall. Notable families of the Chaple and Hall include the Andrews and the Comptons, whose names can still be seen inside the Chaple.
As the Unitarian church doesn't have a "standard" marriage ceremony. Instead, couples work with their minister to create their service. So the look and feel of your service are down to you and your preferences. The Unitarian church welcomes all cultures and religious faiths and is proudly LGBTQ+ inclusive.
The picturesque setting of the Rivington Chaple makes it a popular choice for many couples looking to celebrate their wedding at Rivington Barn.
Rivington Parish Church
Is an Anglican Parish Church whose foundations are thought to be from the pre-Conquest era. In 1536 Richard Pilkington, whose family held Rivington manor, appealed that the church and churchyard be consecrated.
Today the church remains largely as it was rebuilt in 1666 with alterations and restoration in the late 19th Century. Further extensions were added in 2014. If you wish to marry in any of the four Horwich and Rivington Churches, contact Revd. Caroline Tracey on 01204 692303, or any of the other team clergy for general information about weddings.
Celebration & Dining Spaces
The Terrace
The terrace at Rivington Hall Barn provides the perfect setting for celebratory drinks with your friends and loved ones. Perfect for an alfresco drinks reception alongside delicious canapés overlooking the lawns of Rivington Hall. If the weather is being decidedly "British," the glass atrium is the perfect modern touch.
With patio heaters available, the terrace is a space that can be enjoyed by your guest all year round.
Wedding Breakfast At Rivington Hall Barn
A unique feature of Rivington Hall Barn is that it easily suits many different layouts and styles. The natural charm of the barn is evident wherever you look and effortlessly beautiful in itself. Therefore if you are looking for something pared-back, only the lightest touch in decoration is needed. With the ancient natural timber already on display, simple floral arrangements in light or contrasting colours will work effortlessly and without fail.
If you wish to create something more dramatic, the large vaulted ceilings can easily accommodate elaborate centrepieces. Furthermore, the large open space can seat up to 180 of your closest family and friends for a sit-down wedding breakfast.
The team at Rivington Hall Barn will work with you to translate your dreams into reality. Whether you dream of traditional round tables and white linen, rustic square tables, or extended banquet-style seating. Rivington Hall Barn is a blank canvas for you to make your own.
All catering is done in-house by the expert team of chiefs at Rivington Hall Barn. If you are still deciding what to serve your guests, choose from their carefully crafted menus designed to wow. If you have something else in mind, the team can work with you to create your own bespoke menu for your daytime and evening guests.
Evening Receptions At Rivington Hall Barn
It is in the evening when Rivington Hall Barn really comes alive. The naturally large open space of the barn lends itself perfectly to celebrations. With atmospheric lighting and an integrated sound system, there really is no place like the barn to party!
With wooden flooring and a professionally integrated sound system, the barn has everything you can ever need or wish for. With a large and well-stocked bar in the same space, everyone will be together in one magical place.
Wedding Photography At Rivington Hall Barn
It is no surprise that the barn offers an abundance of fantastic photo opportunities in such a beautiful location. From the lawns in front of Rivington Hall to the surrounding fields and woodland, you truly are spoilt for choice.
PHOTOGRAPHY STYLE & APPROACH
Too often, couples regret feeling overly posed or awkward, their day photographed not captured, and apprehensive about their wedding photography.
Over ten years ago, we set out to challenge this, to put our couple's experience and the forefront of our wedding photography and what we created was truly magic!
The style of wedding photography we created was authentic and intentional. Neither pure documentary nor entirely staged, but a blend that captured our couples in spirit and essence. Light, when understood, and be used like an artist paints to create something magical, capturing reality but in a way you may never have seen before!
While traditionally staged group photos may not be your thing, rarely are we not asked to take a few. Even when it's simply keeping the family happy, we are always willing to round up a few group shots if asked.
" Mat & Julia, created Fitzpatrick Photography to put you their couples at the heart of your wedding experience. They succee-0ded in creating a truly unique & luxury service"
How Much Does It Cost to Get Married at Rivington Hall?
The pricing below is as of 2022 to get an updated price list, and find out more about this amazing venue you contact them directly via the Rivington Hall Barn Website
MONTH
DAY
HIRE FEE
MIMINUM GUESTS
DAY /EVENING
January - March
Tuesday - Thursday
£2250
60 / 100
Friday
£3500
60 / 100
Saturday
£4000
60 / 100
April - May / September - November
Tuesday - Thursday
£2500
60 / 100
Friday
£4500
80 / 120
Saturday
£5000
80 / 120
June - August
Tuesday - Thursday
£3200
80 / 120
Friday
£5000
80 / 120
Saturday
£5600
80 / 120
Atmospheric lighting including fairy-lit ceiling and beams, spot lit tables & optional coloured up lighters

Top table backdrop with fairy lights

Cake stand & knife

Easel for your seating plan

Microphone for your speeches

Patio heaters on the terrace

Optional red carpet on arrival
Hire of the Barn until midnight (Extensions until 12.30am are available for an additional cost)

Your choice of round tables with white linen tablecloths & napkins or rustic style tables

Cutlery, crockery & glassware

Limewash chiavari chairs

Integrated sound system
CATERING & EXTRAS
The prices shown below cover all the catering items you will need for a fabulous day. Rivington Hall Barn have an extensive list of food and drink for you to choose from. However, if you have something else in mind, they are more than happy to discuss your ideas with you.
There are also lots of delicious extras you can choose to add, such as canapés on arrival, ice cream bike, a
dessert table or a range of evening buffet upgrades. The staff at Rivington Hall Barn, would be delighted to discuss there and any other personal touches you would like to add, in order to make the day truly yours.
Includes:
Your choice of welcome drink

A three-course wedding breakfast with tea,

coffee & mints

Four bottles of house wine per table with the wedding breakfast

A glass of prosecco for the toast
Supplements will apply to some items.
Includes:
Your choice from the evening menu
Includes:
Available from 8am until the time of your ceremony

Tea, coffee and pastries

Two bottles of prosecco
Includes:
White aisle runner

Optional pillars & lantern
What Hotels are Local Close to Rivington Hall Barn?
Mercure Bolton Georgian House Hotel
Rivington Hall Barn Local Taxis & Transport
Due to its picture perfect countryside location, guest are advised to pre-book taxies for the end of the night. Like many rural locations can be a bit hit and miss so advise taxies to for the Great House Barn on Rivington Lane, and the main driveway can be found opposite.
| | |
| --- | --- |
| Private Hire | 01204 690096 |
| Yellow Cabs | 01204 266566 / 01204 275508 |
| Four Sixes | 01257 276666 |
| Tyrers Coaches | 01257 480979 |
Rivington Hall Barn History
Rivington Hall Barn has a long and fascinating history. Originally part of the Manor of Rivington estate, its timbers and architecture place its construction sometime between the 9th and 13th centuries. Constructed using a traditional oak cruck frame, the barn was initially agriculture. Given its age, the barn is likely one of the estates' earliest buildings. In 1702 the then-owner Thomas Anderton made substantial changes to the barn. His and his wife's initials can still be seen on the west gable. This, however, is only part of the history!
Manor of Rivington
The Manor of Rivington can date its history back as far as 1212. At this time, the Pilkington of Pilkington Family owned approximately 120 acres of land. There is some speculation that land was initially held by the Rivington Family pre-Norman conquest in the 11th Century before being dispossessed by the Pilkingtons, conceivably by marriage. This history, however, appears to be lost.
The Rivington Estate
The Rivington estate remained with the Pilkingtons of Pilkington until 1290, when Sir Alexander de Pilkington gifted the lands at Rivington to his second son, Richard, as a wedding gift. Richard would become the first Pilkingtons of Rivington. In 1477 a contract was drawn between Robert Pilkington and Adam Holden to build a cross chamber with two great windows at Rivington Hall, the first Great Hall on the estate. The Pilkingtons held the Manor of Rivington until the death of Robert Pilkington in 1605. On Robert's death, a share of the manor was sold to relatives Robert Lever and Thomas Breres for £1730.
From 1605 and 1900, the Hall and estate passed through the hand of several families, including the Breres, Andres and Crompton's. Each put their own mark on the Hall with extensive extensions and renovations.
A New Rivington Hall
Sometime in the 17th Century, and most likely under the stewardship of William Breres, the 15th-century wood, wattle, and daub structures were demolished. The current Hall, however, shows the fascinating development in architectural styling at the time. The oldest part of the existing Hall has the date 1694 WB (William Breres) inscribed over a rear door to the west. This part of the property is simply constructed with simple mullion windows. Above this, the architecture changes with coursed squared sandstone. Indicating a different period of construction. However, move to the front of the property, and the Hall is classically Georgian, which is different once again! By 1900 the Hall and its remaining estate had been purchased by William Hesketh Lever.
William Hesketh Lever
William Hesketh Lever was born in 1851 and was an English industrialist, philanthropist, and politician. William's flair for advertising and branding became evident after the family purchased a failing wholesale grocer in Wigan. In less than a year, and at just 28, William had turned the business's fortunes around, and it was now steadily expanded. After building Lever and Company to the point, it was self-governing, William decided to go after the international soap trade in 1884. Sunlight Soap was a considerable success and again quickly expanded. William bought his first manufacturing facility, gaining direct control of quality, in 1885 before outgrowing capacity just 2 years later in 1887. In 1887 William purchased 56 acres of green-field land near Birkenhead on the River Mersey. The area would become Port Sunlight, home to soap works, and the model village to house its workers.
Lever Park
During his tenure at Rivington Hall, William Lever made further substantial alterations to the barn. Architecturally, the barn is as Leverhulme had it restored, with the cruck beams infilled with sandstone block walls and slate roofs. Further to the works around the estate, William gifted part of the estate to the people of Bolton. This was part of the Liverpool Corporation Act 1902. The agreement included the creation of the park, an agreement to maintain and manage Lever Park by The Corporation and free and uninterrupted enjoyment by the public.
Rivington Terraced Gardens
William also created one of the North West's best-kept secret Rivington Terraced Gardens. Lord Leverhulme conceived the Terraced Gardens in 1905, enlisting the help of Thomas Mawson, who had completed the project in 1925, the same year William passed away. After his death, the gardens slipped back to nature, a lost garden. Today, United Utilities owns the land, and Rivington Heritage Trust has taken on the mammoth task of repair and conservation. Each year as more of the shrubs and self-seeded trees are cleared away, the more the original shape of Lord Leverhulme's gardens becomes visible.
Thomas Mawson, one of the great landscape gardeners of his time, created a terrace garden filled with hidden treasures. The landscape was filled with iconic structures such as the Pigeon Tower, the Seven Arch Bridge and summer Summer Houses. In addition, the gardens included luxury water features for rest and relaxation. The Italian Lake was where Lever used to take his morning swim. The beautiful Japanese Lake was once looked upon by charming oriental pagoda-style tea houses. As the Rivington Heritage Trust project continues, new paths are discovered, new stairways are uncovered, and visitors can see how it once might have been. There is nowhere else like it on Earth!
Rivington Hall Barn Today
Today the Manor house is owned by the Salmon family, who have worked tirelessly to restore the Hall and barn to their full glory.
Contact Details

---
To help with your wedding planning we have put together a comprehensive 32 step guide taking you every step of the way from picking your venue, to last minute details. Wedding planning, shouldn't be stressful, and we would love to join you on your journey from saying "Yes" to "I Do"