Wedding sparklers are a fantastic way to celebrate with your evening guests and get some amazing photos. Sparklers aren't just for Bonfire Night; they can be the perfect way to light up your wedding after dark.
Understandably sparklers are a popular addition to weddings around the world. However, as trends and schedules vary from country to country, the post below focuses on UK weddings & couples.
WEDDING SPARKLERS
Understandably sparklers are a popular addition to weddings around the world. However, as trends and schedules vary from country to country, the post below focuses on UK weddings & couples.
Below we will explain how to make the most of your wedding sparklers, whatever the time of the year, how to get some stunning photos and six common mistakes to avoid when using them.
Wedding sparkler send-offs originated in the US several years ago, and we now see them at more and more weddings in the UK. A wedding sparkler send-off or sparker exit typically involves your guest lining up to form a glimmering arch or path for you, the newly married couple, to pass through.
In the US, where the couple will typically leave the evening reception before the guest, the wedding sparkler send-of is as they go. In the UK, it is more of a fun photo opp before you head back inside to carry on partying the night away.
Most photos you might have seen show the newly married couple walking through a sparkling archway before pausing for a kiss. However, this doesn't mean it is the only way to do things or the only way to use wedding sparklers.
Speaking to and working with your wedding photographer, you can create some stunning reportage-style shots or, if you wish, choose to get as creative as you want.
HOW TO PLAN YOUR WEDDING SPARKLER PHOTOS
There is something about wedding sparkler photos; they always look so candid and fun! Part of this is that their inner child is released as soon as you hand someone a sparkler, and they suddenly forget about the photographer. That's our thoughts anyway 😁
Setting up the photos, however, usually takes a little longer, so planning is vital. If you intend to incorporate sparklers as part of your wedding day, look for the longest ones you can find and plan your sparkler station. Of course, you will want someone else in charge on that day. Assign the duty of organising to a bridesmaid, usher or family member/friend that you trust. Just make sure they know beforehand!
Your wedding suppliers are always happy to help, so ask if your DJ, wedding band etc., will ask everyone to gather outside. This should be a spot you have already chosen and agreed on with your venue and photographer.
For simplicity, we typically ask you to arrange themselves into two rows wide enough apart that you can walk down the middle. For safety reasons, this is usually about twice as wide as the gap for your confetti. If there isn't space, a semi-circle will also work well.
Lighting sparklers are always a challenge, but we have included our best solutions for quick, safe and easy ways of lighting below 👇
Once lit, we should have about 30 to 60 seconds to nail the perfect wedding sparkler shot.
PLAN YOUR WEDDING SPARKLER STATION
Have fun planning your wedding sparkler station, and feel free to tie this in with the rest of your theme. Speak to your wedding venue planner/dresser in advance to ensure the wedding sparkler station will be set up conveniently and located where the exit will happen.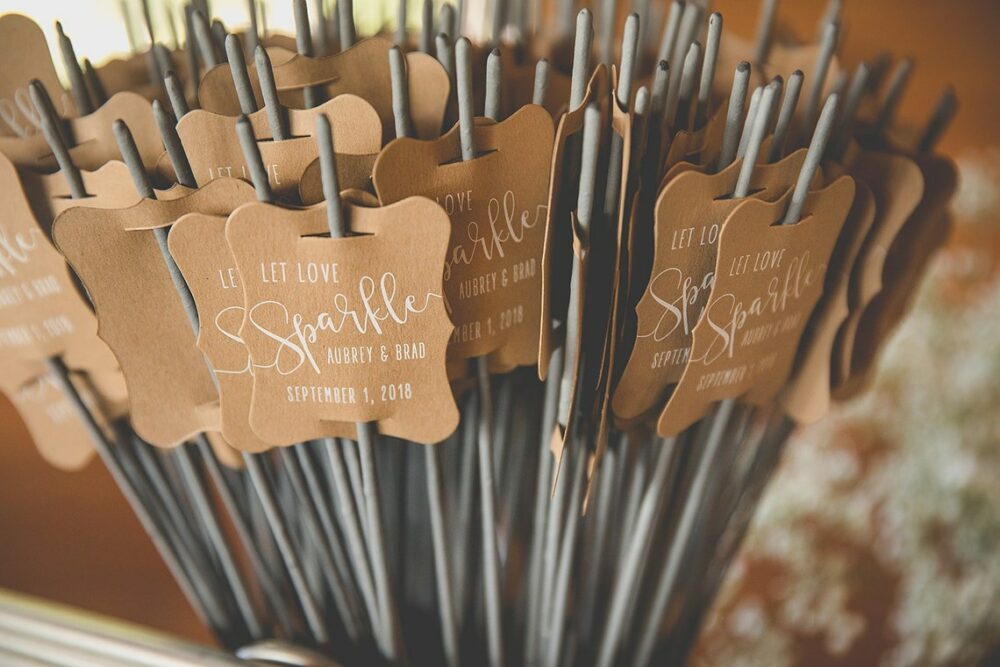 WEDDING SPARKLER ALTERNATIVES
As fun as wedding sparklers can be, they can also be complicated to arrange and often at the mercy of the UK weather. However, if you want a sparkler send-off but don't fancy the added stress, there are alternative options. LED balloons on a stick, LED wands and even phone torches can all work well.
For couples and small group portraits, a bottle of fizz can also create really fun and dramatic photos
WEDDING SPARKLER TOP 7 MISTAKES TO AVOID
1. Safety With Wedding Sparklers
No one wants to think about "safety planning" on their wedding day, but calling an ambulance is no fun either. So let's start by addressing the safety issues and getting them out of the way.
It may be a surprise, but sparklers are consistently listed as one of the UK's most frequent causes of firework-related injuries. In fact, if you do decide to do a little digging into firework injuries, don't be surprised if you never pick a sparker up again!
While ignited sparklers can reach temperatures up to six times hotter than a pan of cooking oil, it is essential to treat them with a bit of care and attention.
Most people are aware of sparkler safety basics. Even after a few drinks, most guests will know NOT to hold the hot end and that they need to be disposed of correctly. If any are struggling with these basics, it is best not to hand them a sparkler to start with.
What most guests don't know is that bundling sparklers together and trying to light them like this can cause them to flair up violently, resulting in severe burns!
The video clip below👇 shows how big a flair can result from just six sparklers lit at once.
If you are planning a sparker exit, make sure you have a plan for lighting them in place and someone you can trust to ensure it is carried out correctly.
The advice around sparklers is always to wear gloves, although only some people want to wear them. If you plan to use long-burn sparkers, ensure your guests know they may get hotter than usual. This heat is because the sparker has more time to heat the metal core before it has gone out. If guests are unaware of what to expect, it risks them not being disposed of correctly and little ones picking them while they are still hot enough to burn.
2. Forgetting To Check Permission
As important as planning how to light your sparklers is how to get rid of them. Always use a bucket (preferably metal) filled with sand or water. Sand is better than water simply because the weight makes it harder for the buckets to be accidentally kicked over. However, this is a personal opinion and does make the buckets harder to move around.
Ask your wedding venue early if you dream of a fairytale wedding sparkler exit. There is no point in getting all excited about the dream of exiting the venue as a newly married couple while your guest create a unique sparkler lineup, only to find the venue doesn't allow them.
Not all venues allow sparklers. There can be multiple reasons, but insurance is typically the leading cause. If they say yes, it is also best to double-check if any restrictions need to be considered. Try to get as much detail as possible, are they only allowed in certain areas, at a particular time etc.?
Venues like the National Trust or those within parks and woodland may also require a risk assessment. In this case, it is best to speak to both your venue and photographer before the wedding to ensure any paperwork can be completed.
Finally, use your own common sense. Extended summer dry periods and droughts are definitely on the increase. So if you arrive at your venue and the grounds look tinder dry, maybe skip the sparklers.
3. Wrong Type of Wedding Sparklers
A sparker is a sparker right? Well, yes and no! While all sparkers, wedding sparklers or otherwise use the same sort of flash powder, they differ in size, colour and length of burn.
Most sparkers advertised as 'Wedding Sparklers' are simply sparkers. There is no difference between these and what you might pick up before bonfire night, and they are typically the standard size you will be familiar with. However, the type you are ideally looking for are longer with a slower burn time. The extra long length helps keep the keeps things further away from clothing and the slower burn time means more photos.
The ideal length is 18" and above, giving you a burn time of at least a minute, and a great site, if you are looking, is sparklers who are based in the UK
4. Dont Forget Your Photographer
The BEST wedding sparkler photos take a little bit of planning, so give your photographer some notice.
In our experience, the best set-up for wedding sparkler photos requires off-camera flash. Off-camera flash simply means the flash isn't sat on the camera but triggered by a remote, but that's not important. It does, however, mean that a little extra set-up and prep is needed to ensure everything is ready before the sparklers are lit.
Not every photographer uses the same technique, so if you are planning a wedding sparkler exit, mention it in advance along with the scheduled times etc.
5. Wrong Method for Lighting
Lighting multiple wedding sparklers successfully and in close succession will inevitably cause issues. But first, NEVER light multiple wedding sparklers at the same time. If you haven't seen the video, click 👉 six sparklers lit simultaneously.
Matches are unsuitable for lighting sparklers. They don't get hot quickly enough or stay alight long enough to be reliable. Furthermore, the slightest breeze and your back trying to light another one.
OK Solution
---
BBQ lighters, also known as tube lighters, are frequently used as they tend to light reliably and offer some separation between the person lighting and the person holding the sparkler. In addition, they are typically cheap and available in packs, meaning you can buy as many as you need. However, there are better options than gas lighters if it is windy.
Better Solution
---
Most windproof lighters use the same fuel as other lighters (butane) but use a different ignition method meaning the flame is less likely to be blown out. As a result, you will spend less time trying to re-light the lighter from one wedding sparkler to the next. However, windproof lighters are typically more expensive than standard lighters, and you need to stand closer.
Best Option
---
The best and, in my opinion, safest option is to set several larger wedding sparkers aside from those you and your guest will use. Then, once you are ready to start your wedding sparkler exit, set these in the ground and light them. Once they are lit, your and your guest can then use these to light the other sparklers one at a time. As well as limiting the number of wedding sparklers you need to light, every other sparkler can be lit at arm's length and as far away from guests' clothing (and the bride's wedding dress!) as possible.
6. Wrong Time Of Day For Your Wedding Sparklers
The right for your wedding sparklers is, obviously, nighttime, right? Well, yes and no. Clearly, it needs to be dark enough to see the sparklers, so that rules out mid-day, but leaving it till too late in the evening creates a few challenges.
Lighting
While we want to be able to see the light from the sparklers, we also want to be able to see you, our married couple. Our off-camera flash will help, but if there is still a bit of ambient light available to help, all the better.
Dusk or the blue hour is an excellent time for your wedding sparkler photos. I love the deep blue skies this time of day has to offer, and there is just enough light available to make everything POP!
7. Drink
We have been to very few dry weddings, which inevitably means that people's sobriety tends to be very closely associated with the time of day. As we have already discussed, wedding sparklers are already a little risky. If you leave your wedding sparkler photos until after Jaeger bombs, that risk assessment may need another look!
Once you have time, let everyone know, including your guests.
To help with your wedding planning we have put together a comprehensive 32 step guide taking you every step of the way